Post by Chris Wright on Jan 16, 2017 12:22:34 GMT -5
The unsung hero of British motor racing, the E.R.A. Originated by Raymond Mays in 1934. All E.R.A.'s except one are still racing today, all 18 or so of them. That's a history of 83 years.
The E.R.A. I'm building is E.R.A. R1A, the first car ro roll out of Raymong Mays workshop. The same Raymond Mays that was responsible for BRM many years later.
Over the years many modifications were made to all E.R.A.'s most of them adopting the latest fad to try and remain competitive in races and hill climbs. R1A was modified over and over again. After a stint as a factory racer,
Bill Humphreys' rebuilt it in 1938/39 he incorporated a chrome radiator surround. This disappeared during Wilkie Wilkinson's modifications in 1947/8. The bonnet line was lowered and extended and subsequently piston-type dampers were fitted front and rear with a horizontal connecting bar at the front. Rear axle radius roads were also added, during the late 1940s.
In the late 1970s Sandy Murray and Tony Merrick restored the body to its original dimensions, the Hartford dampers were re-instated and the rear axle radius rods removed. The car has had a 1500cc supercharged engine throughout its life.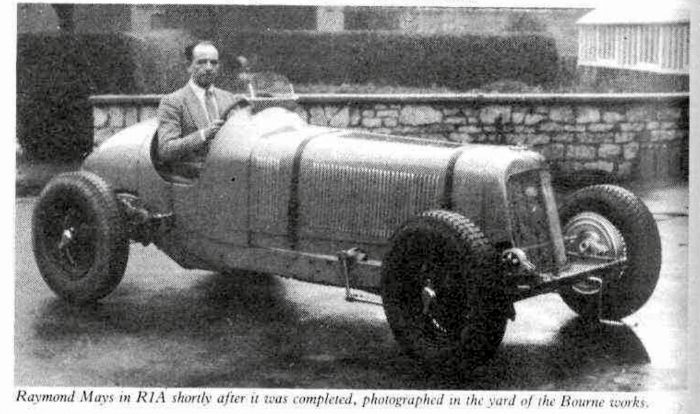 Factory fresh with Raymond Mays in the cockpit.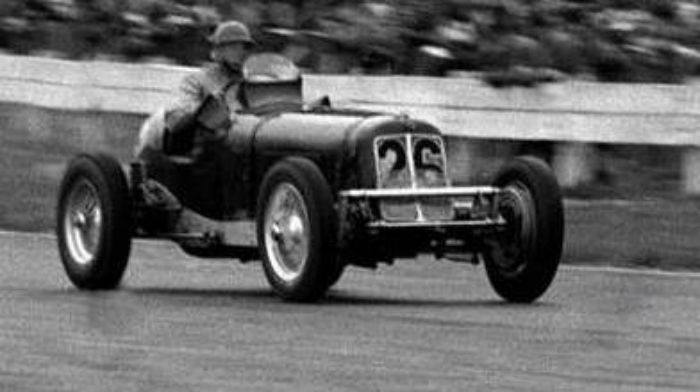 Graham Walker at Goodwood Easter 1951, note changes to suspension etc.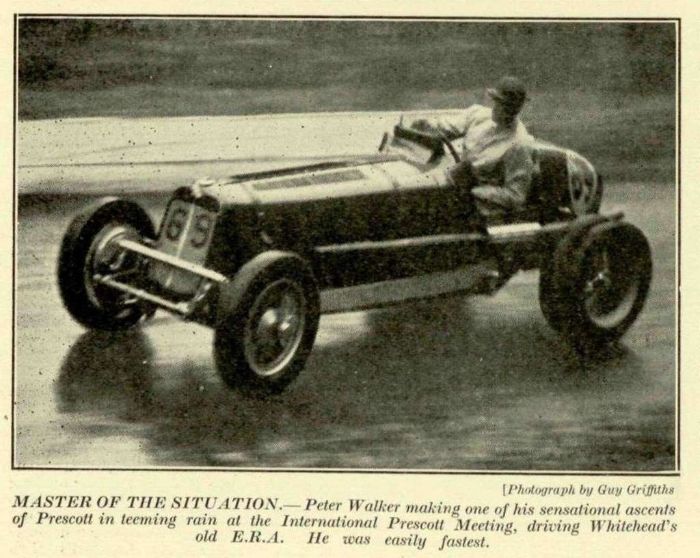 Peter Walker at Prescott Hill Climb. Running twin rear wheels for added traction.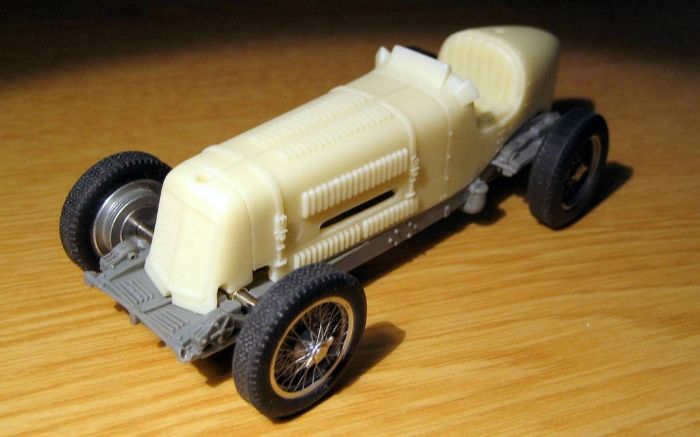 First dry fit, as it came from Mr George Turners workshop. (Car as modeled on Prince Bira's Romulus or Remus.)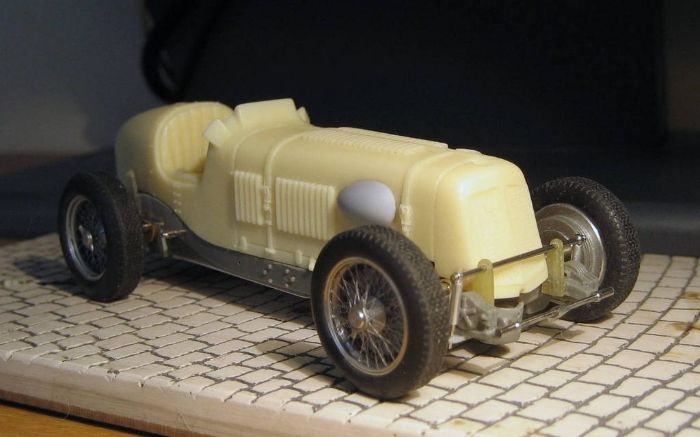 First series of mods, including loosing some louver's, gaining a bump, and those ugly piston shocks.
Note the original dampers are still retained. Body lowered onto chassis by an extra 4" as per original.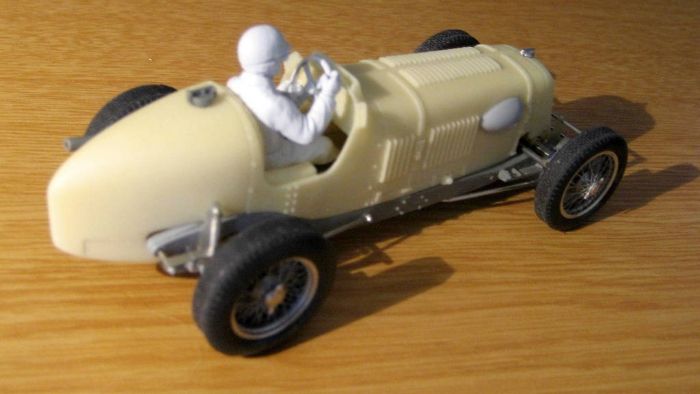 As it stands today, waiting for paint, silver chassis and B.R.G. for the body. (a colour that was detested by the factory,)
So back in 1934 they were painted pale green, (same colour as later eatly BRM V-16's, and P-25).
Apparently Raymond & Co. hated the dark green, but regs at the time requires British cars to be green, so they used puce green!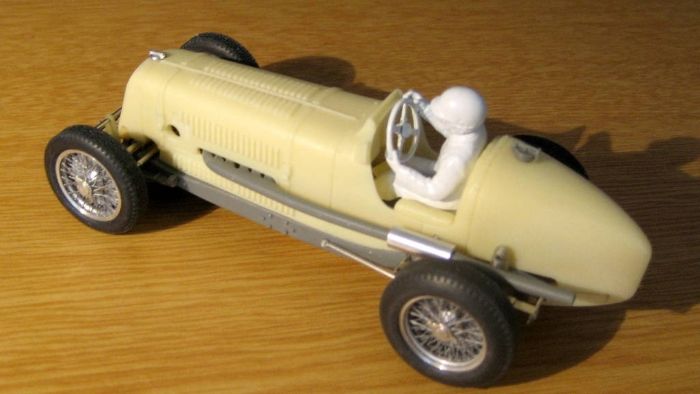 Driver installed, (thanks Marc at Immense Miniatures). All items dry fitted, now waiting for good dry warm
weather for the paint. Maybe March!!! This rendition will have
Mr. Ron Flockhart driving, as in 1952.
HISTORY:
Works 1934 to 1935. A Valette 1935. Back to the Works 1935 to 1936. F S Cotton 1936 to 1937. E Bjornstad 1937.
Back to the Works again for 1937 to 1938. J Trevoux 1938. W E Humphreys 1938 to 1942. H W Motors 1942 to 1946
C Hawkes 1946 to 1947. R Parnell 1947 to 1948. D A Hampshire 1948 to 1952.
W R Flockhart & A W Birrell 1952
.
A W Birrell 1952 to 1956. W F Moss 1956. E Smith 1956 to 1958. E Hammersley 1958 to 1959. A G Murray 1959 to 1982.
D Margulies 1982 to 1983. J Wildbolz 1983 to 1993. P M Rae 1993 to 1998. E D Butler 1998 to 2008.
(Dorset, UK) 2008 to date. (Undisclosed buyer!!)