Post by Mark Huber on Sept 27, 2019 10:17:37 GMT -5
The McLaren M5A was designed by Robin Herd and began racing in 1967. The chassis followed the lines of the smaller M4B (upsized from McLaren's M4A F2 car), but the main fuel tanks were within the side pontoons. Additional fuel was carried above and below the driver's legs and the extensions from the monocoque that supported the engine. Only one M5A was ever constructed.

The M5A was the first F1 car to use BRM's 101 3.0 litre V12 engine, which produced about 365 bhp. In fact, the M5A raced with the BRM V12 in 1967 while the works BRMs continued to struggle with the H16 engine, introduced the prior season.

The M5A's first race was the1967 Canadian Grand Prix. After an early spin, Bruce McLaren moved up to fourth place, before a pit stop to change a flat battery pushed him back to seventh place by the end of the race. At Monza, McLaren qualified third, but the car broke connecting rods while battling for fourth place and retired after 46 laps. The M5A fared no better in the last two races of 1967 season with McLaren retiring from both.
McLaren missed the season-opening 1968 South African Grand Prix, and reigning World Champion, Denny Hulme, who had joined the McLaren Racing team, took over the M5A, now painted "McLaren Orange" rather than the red livery of 1967. Hulme finished 2 laps adrift in fifth place to score the M5A's first championship points.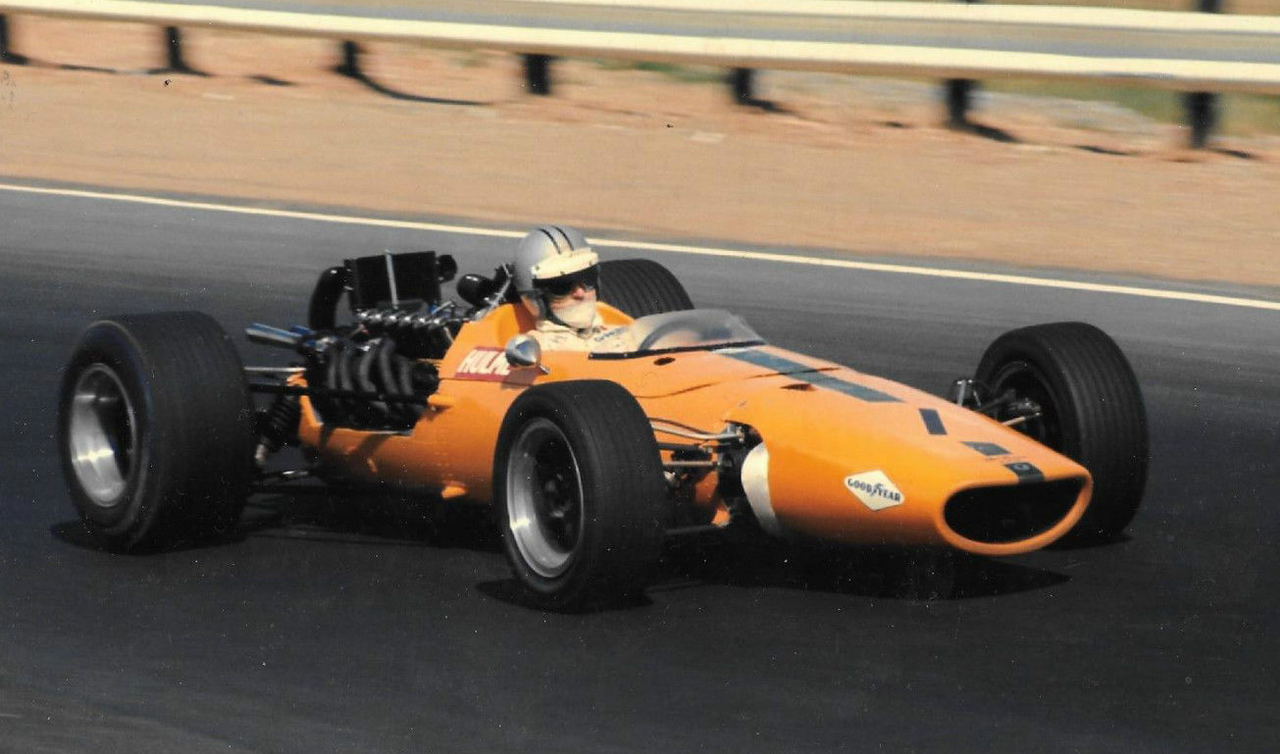 Two Robin Herd/Gordon Coppuck designed M7As, powered by the Cosworth DFV V8 were delivered to McLaren and Hulme before the next Grand Prix races, and McLaren racing sold the M5A to Jo Bonnier. Bonnier campaigned the M5A in 7 more Championship Grands Prix and several non-Championship races for the remainder of 1968. Bonnier's best result came at Monza with a sixth place. Bonnier retired the M5A at the end of the season.
I'm building the M5A to represent the car as raced by Denny Hulme in South Africa. There's still a fair amount of work remaining, including revising the front suspension; I will replace the faux rocker arm with an upper single link, trailing arms and external shock/springs.

The body shell was crafted and cast by Marc Tyler. I sprayed the shell with Tamiya Camel Yellow TS34. The chassis is a modified and extended Beardog Mk III, the rear tires are NSR, the gears are Slot-it, the driver is from Le Mans Miniatures (to be replaced by an Immense Miniatures driver) and the motor is a secret. Yes, there is a motor in there.