Post by Chris Wright on Nov 15, 2015 14:10:01 GMT -5
Well the expert kakapo in New Zealand has been working hard. (John has him working diligently).
He is casting a 1938 British formula car, the rarely seen 1938 Alta Supercharged Voiturette Single Seater.
Geoffrey Taylor, was the Alta's designer, he was a sort of pre-war Colin Chapman ahead of his time and very concerned with lightness. He designed and built virtually everything, the engine, supercharger and chassis on these cars.
The Alta's rigid chassis and independent suspension would have had much more influence if the war hadn't got in the way. (damn wars, they get in the way of everything) It was very light car weighing 11.5cwt (1288 pounds). Less than the ERAs, the 4CLT Maserati or the MG and Riley specials it was up against. With a 2-litre engine it began to match, even sometimes beat the ERAs, which were the top voiturettes at the time.
Geoffrey teamed up with racing driver George Abecassis, and together they went racing in 1938, with Geoffrey providing mechanical support and pit staff, and George driving like there was no tomorrow. They made names for themselves, and put one another firmly on the map of British motor racing.
George Abecassis had a stunning season with the Alta in 1938. For the first time, he had a competitive car (particularly over short distances) with which to take on the cream of British cars and drivers, who at that time included Earl Howe, Raymond Mays, Bira, etc etc.
The competition drove an assortment of ERAs, Altas, Rileys, Maseratis, Alfa-Romeos, Darracqs, MGs and Specials: George was definitely the newcomer among them.
Then WW2 got in the way, George became a Squadron Leader bomber pilot, but for the last year of the war and ended up a POW. George escaped the camp, after it had been turned over to the British control, by bicycling to Hildesheim, where he met the advancing American Army, and was quick repatriated. On arriving home, he discovered that he had a second daughter, and been awarded the Distinguished Flying Cross.
Apon returning home after the war he got the old pre-war Alta out of storage and he and Geoffrey refurbished it, and had some limited success with it in 1946.
The first two photo's are of George Abecassis's car.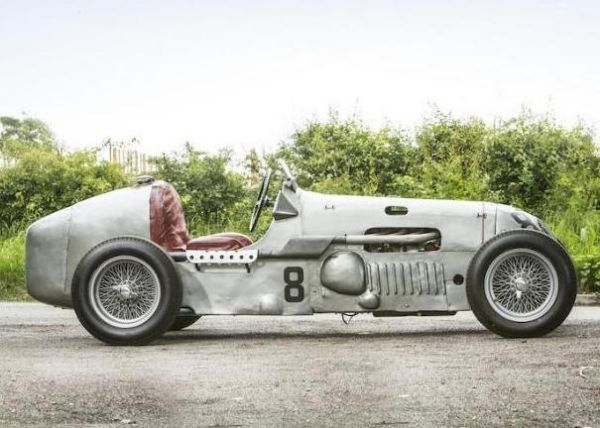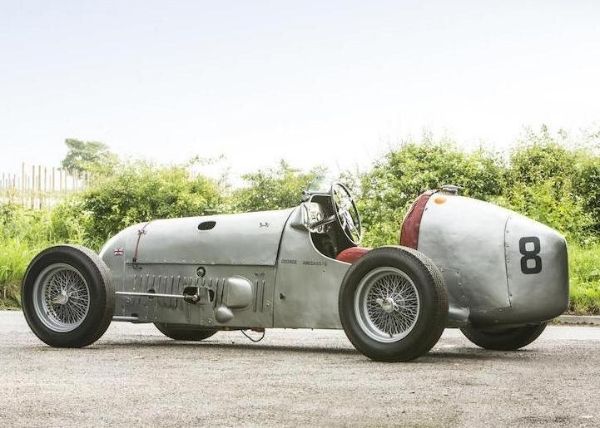 The Ex-George Abecassis 1937 Alta Supercharged Voiturette Alta.
Chassis no. 61IS Engine no. 61IS Sold at Bonhams for £158,300 (US$ 240,993) 27 Jun 2014.
Lots more information here:
www.bonhams.com/auctions/21906/lot/311/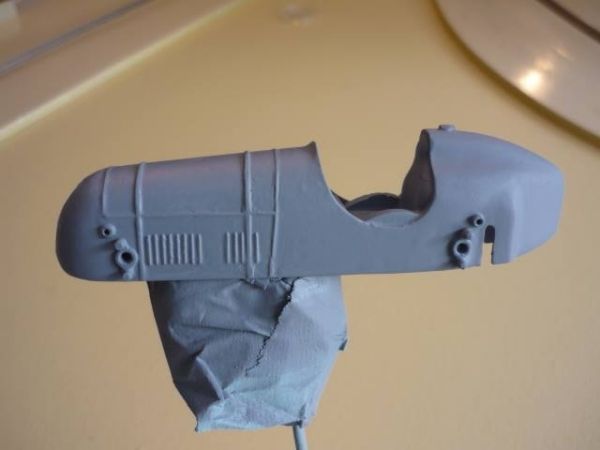 This shell has been available before, from Traffic Slot Cars, (now defunct). It is moulded from an old white metal Scammell Alta Racing Car toy from the 50's. Quite a nice rendition, and a great car to round out the British post war climb to supremacy.
The car is as you can see in the moulding process now, and Mr John Warren will anounce when it is available.
More reference photo's. First photo is George Abecassis taking the Alta for a car wash.
George Abecassis car as it exists now-a-days.
An early version, owners and drivers unkown.
An 1938 Alta set up for hill climbs, the owner Paul Jaye road races it in this configuration.