Post by David Mitcham on Dec 16, 2015 15:18:53 GMT -5
The 1961 BRM P48/57 seems to be something of mythical beast for slot car builders given that no body shell exists. BRM produced this car in response to the change of Formula to 1.5 litres. They didn't have a suitable works engine for 1961 so used the Coventry Climax 1.5 4 cylinder, pending the development of their own V8. The P48/57 was bit of a hybrid – part P48 MkII (but slimmed down) from 1960 and in part new using ideas which would eventually be incorporated in the P578. The car wasn't very successful despite the efforts of drivers Graham Hill and Tony Brooks – the best team result being a third (Brooks) and a fifth (Hill) place in the US GP at the end of the season.
Graham Hill at the 1961 Dutch GP
I've not carved a body shell since my teens in the 1960s but, thanks to encouragement and advice from David Lawson, I decided to take the plunge during Christmas 2014(!) and began work on a model P48/57. There were a couple of good reasons for choosing it – rarity and it has a pleasing and a (deceptively as it turned out) simple shape. There was one bad reason, there was no drawing or plan of the car I could find: I would have to draw it myself from photographs. Fortunately there are plenty of good ones available via the web and in books, such as Doug Nye's volume 2 on the BRM space-frame cars. Even better several of the period photographs are of both sides of the car from more or less side-on. That was the profile sorted and nose and tail shots were also available. What I couldn't find straightaway was an overhead photograph to provide a plan view. Then I came across a for sale listing of a V8 engined P48/57 which had a number of photographs including a direct overhead view; not quite the same as the Climax P48/57 but near enough. Using the wheelbase and track dimensions for the car to scale the photographs I put together a drawing as shown below.
Armed with the drawing I could now begin a carving. I chose balsa as the material because I'd used it all those years ago and it seemed popular among other carvers. Balsa is certainly low cost, easy to shape (at least carving with the grain) and sand but it is soft and easy to damage and not great for making holes/openings/panel lines (toughening it up with a rub of super glue helps though!). Eventually after much sanding, filler and surface sealer I produced a reasonable facsimile of the P48/57. Priming and gloss painting it revealed a few blemishes that were rectified with more filler and more sanding. With hindsight I think I would have been better off using tooling board which professional model makers use, (eg George Turner). Working with this material on another couple of (unfinished) bodies has been somewhat easier – it has the qualities of wood but has no grain, sands to a very smooth finish and it is easier to mark out panel lines and openings. It is relatively expensive though!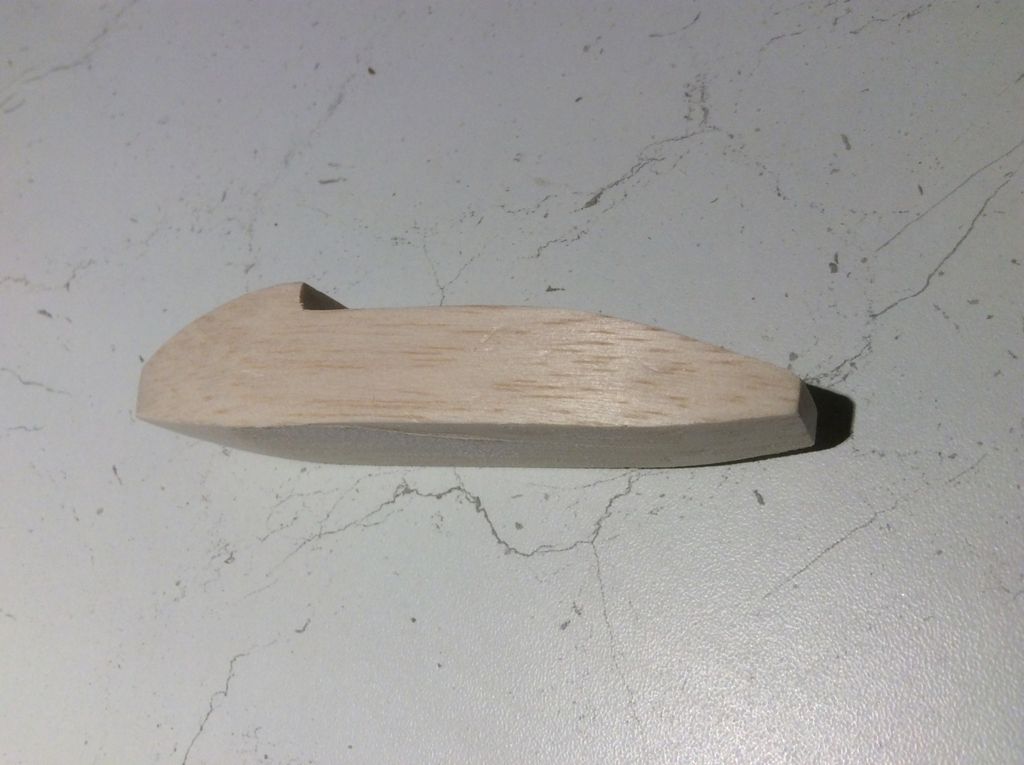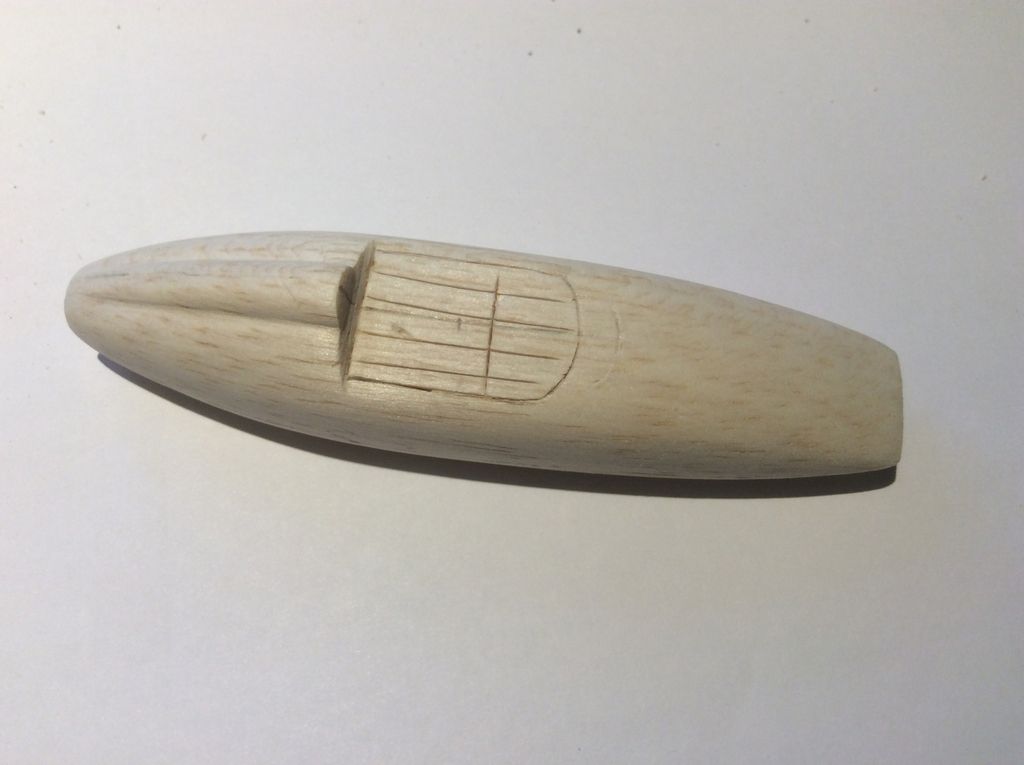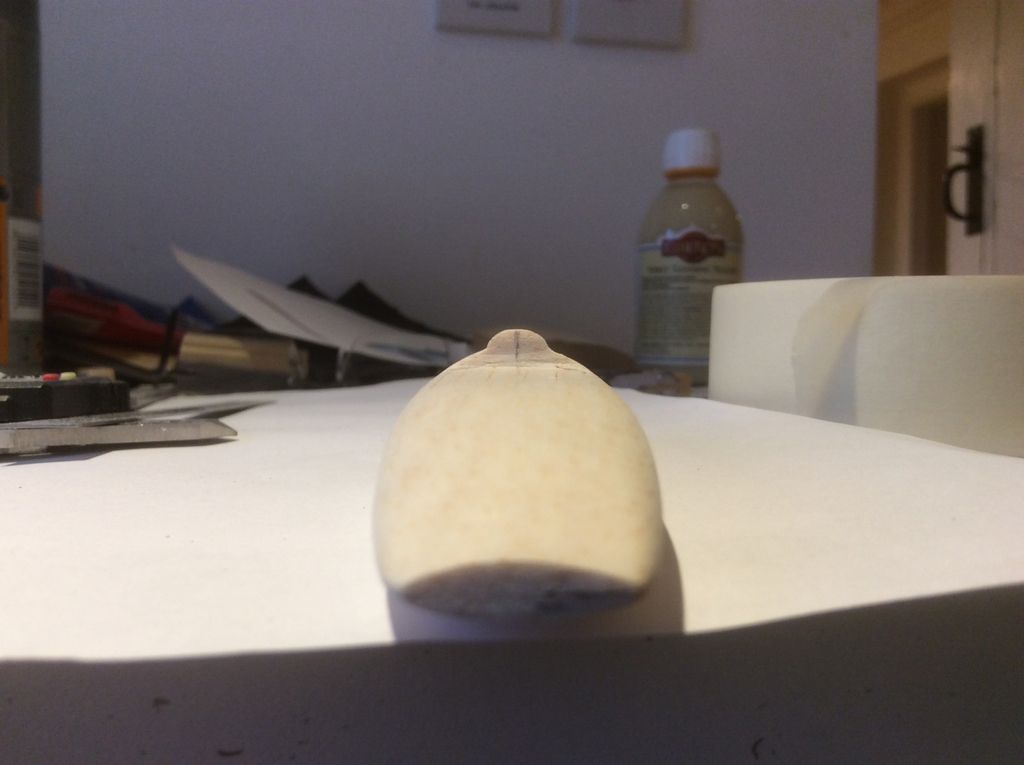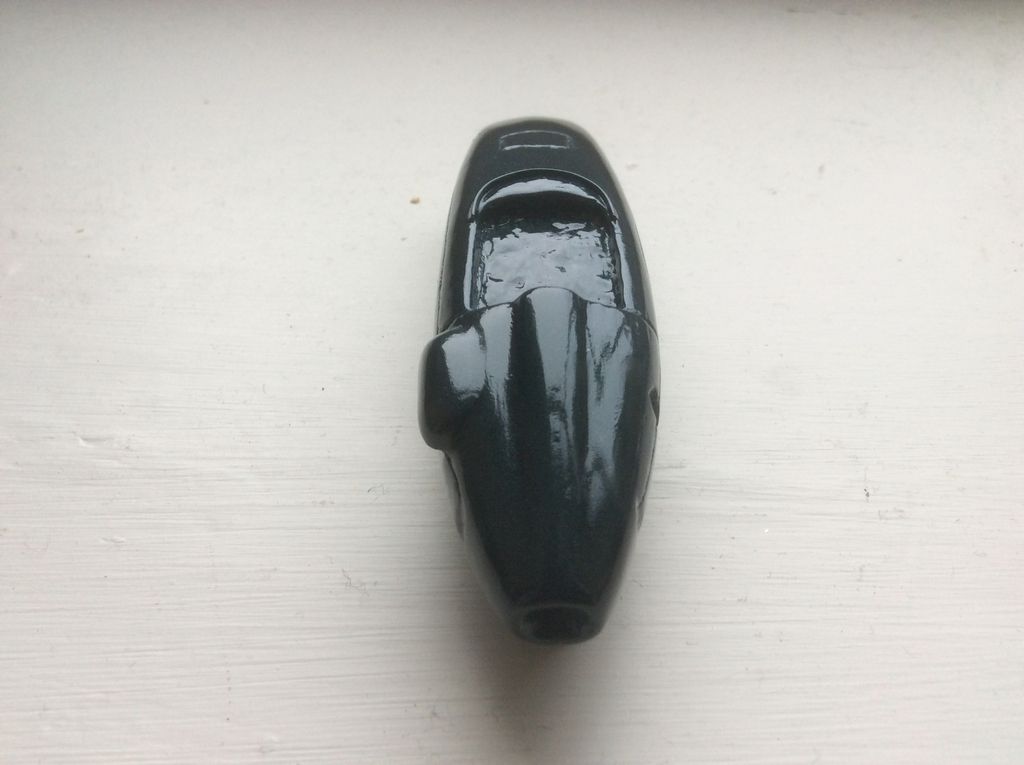 I had intended silicone molding the balsa master and then slosh casting a shell or two in resin myself. However I chickened out and asked John Warren to do this for me and very glad I am that I did. John produced a solid cast and a couple of hollow casts and these turned out extremely well thanks to his expertise. We both felt that with work the shells could be turned into decent models but a bit of extra work on the solid cast in order for it to become the final master would be well worth the effort.
That's pretty much where the project is at currently. I've done further work on the resin 'master' improving the surface finish, adding a few details and improving the panel lines and nose and tail openings.
After Christmas the new master will be heading back to New Zealand to produce the definitive mould and body shell casts: then I'll be starting a P48/57 build. As the shell will be fairly generic it should be possible to build several versions of the car, including a V8, "stackpipe", which Richie Ginther used in early 1962 pending the arrival of his P578.
Best Regards
David