Post by Howard Lynk on Feb 7, 2016 15:23:37 GMT -5
Greetings to all. I recently started work on modeling one of the variations of the P-Wagen, forerunner of the Auto Union Type A. I've found a few historical images online, and from what I can gather, the car was an ongoing design project by F. Porsche, first seeing pavement as the Tropfenwagen in 1923. My model is based on images of one of the car variations as it was probably around 1932 to 1933. There were evidently many different minor body configurations, with variations of engine cowling shape, louvers, louver covers, tail length and shape, and aero stabilizer wings behind front and rear wheels. The image just below shows the 1923 car (inset) and the P-Wagen c. 1932 which I have tried to model, with my finished model shown underneath that. Construction sequence follows.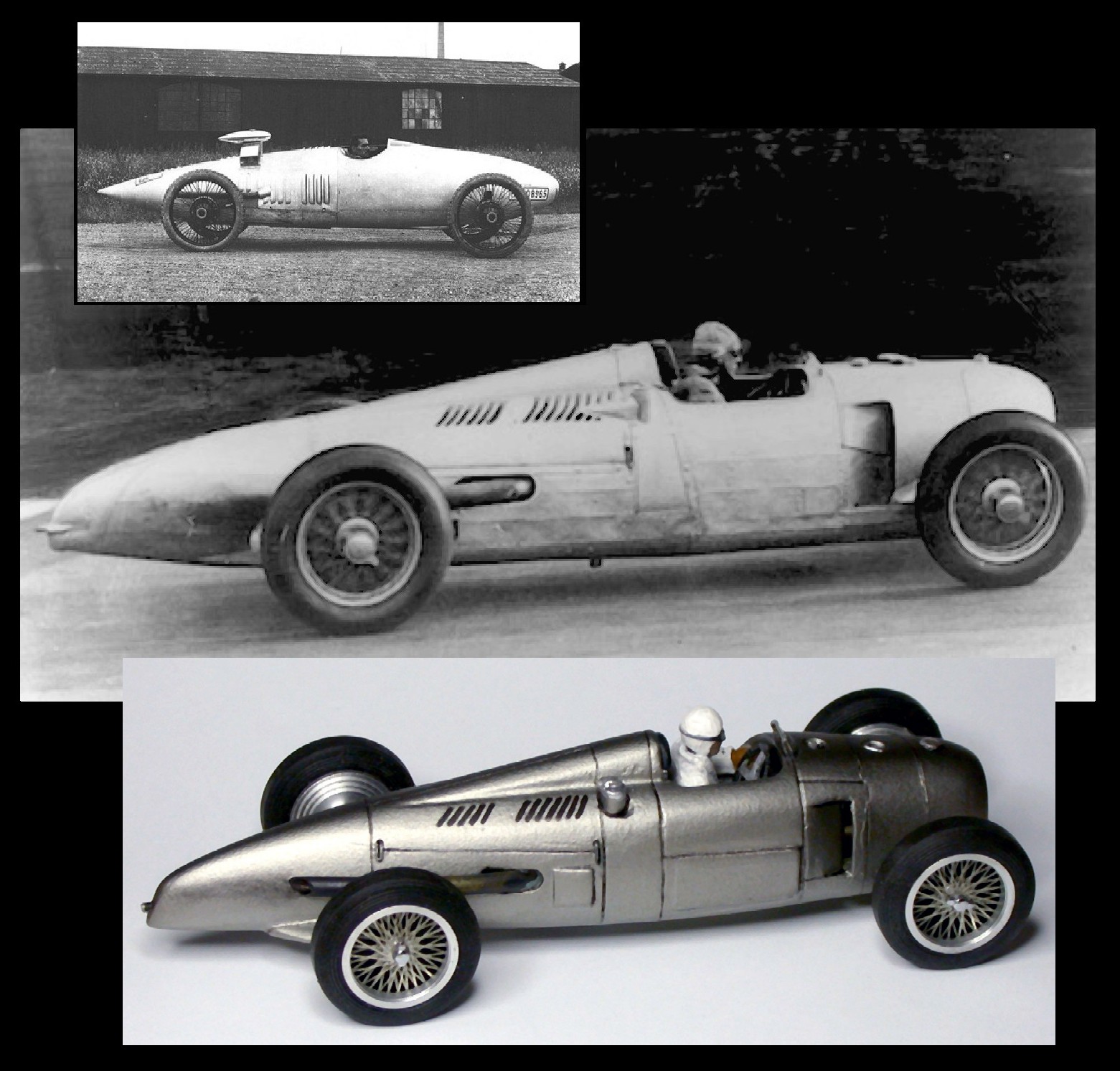 The P-Wagen, like the early Auto Union models into the mid 1930s, used a V16 engine. The later Auto Unions were powered by V12 engines. The images below show some of the body variations that were tried.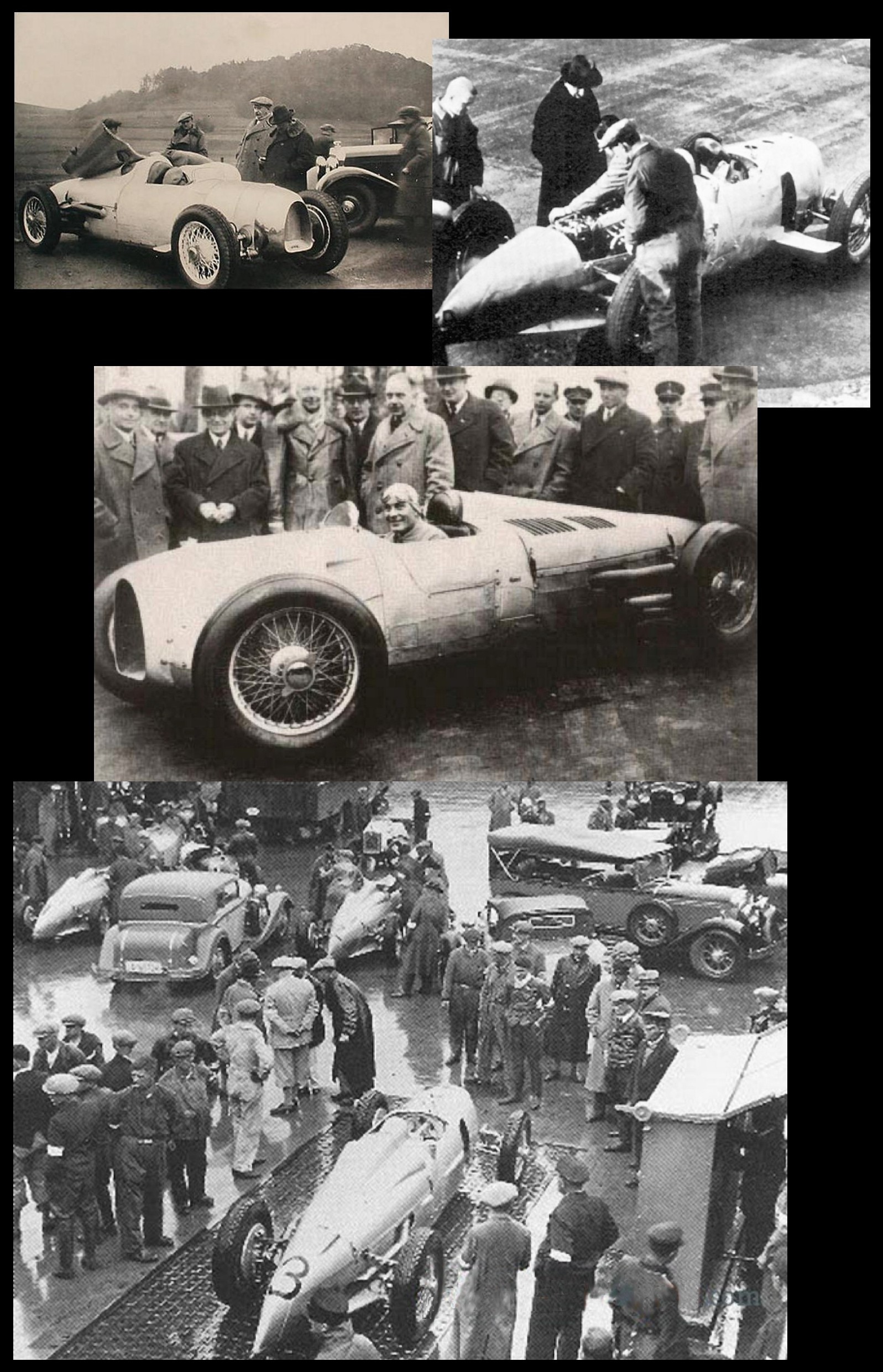 I started with a Auto Union resin body from Geodies (eBay). It was listed as a Type C in the auction, but the exhaust arrangement suggests a closer resemblance to the Type A. Using the side perspective photos of the actual car below, I made a scale that was used to arrive at the necessary extension of the nose cowling and tail for my model.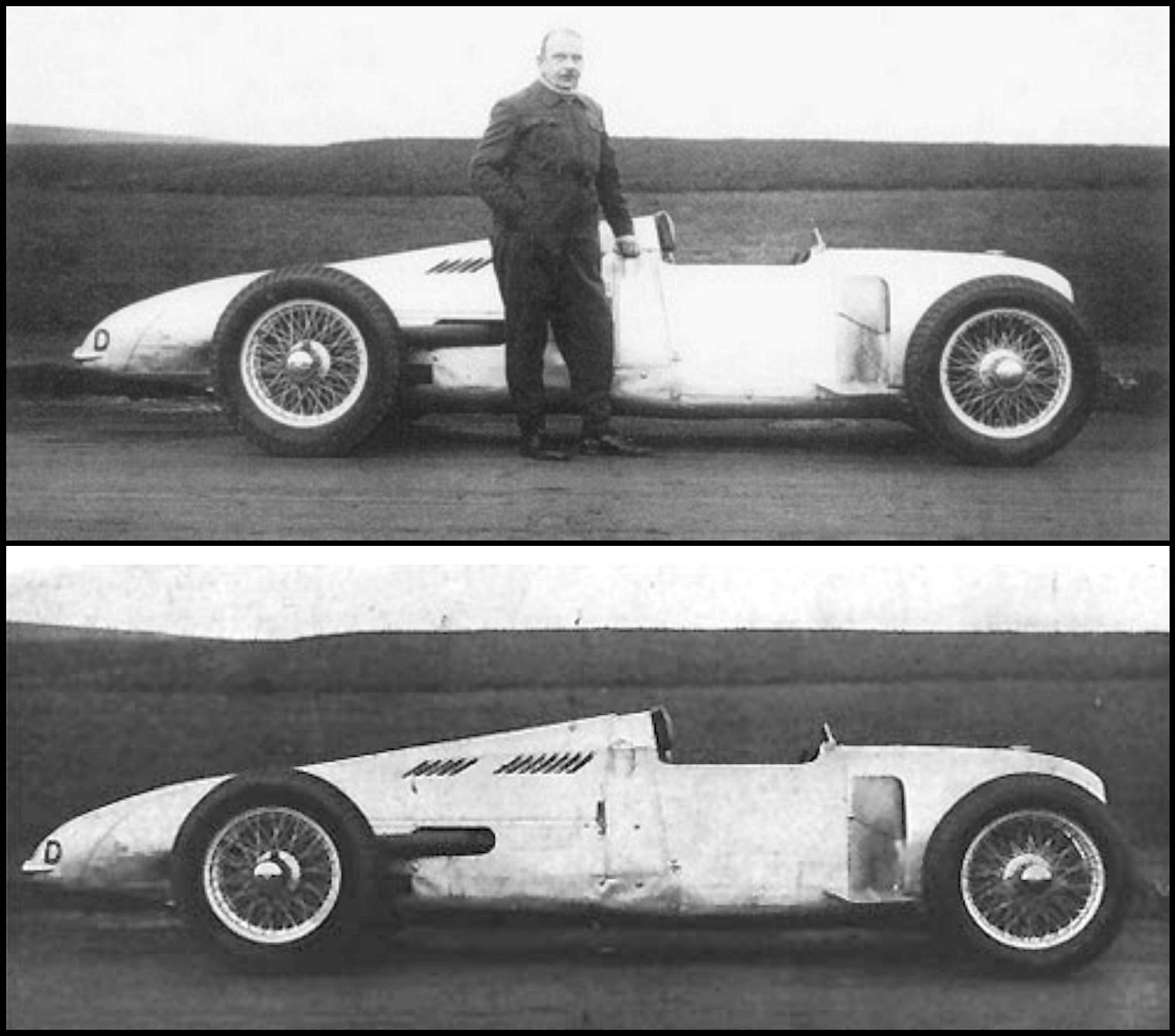 Below, a composite of images showing modeling progress. top, the resin body as it came from Geodies, prior to any reworking; next images show first phases of the body remodeling. The nose and tail have been extended and shaped to more accurate dimensions, scoops removed, and the side vents just forward of the cockpit have been enlarged and reshaped. The basic finished shape of my P-Wagen is pretty much there now; bottom image, extended a PP Sk1s narrow chassis, which just fit with a bit of scraping to thin the body interior around the transmission gear. Brass axle bearings, BWA 14k motor, and a set of BRM S-124 wheels on 3/32" axles. Everything scaled well, also looking to be in the accurate location visually. Needs a bit more work on the chassis, mount points and guide mounting. Then it's on to doing some of the body work & details, etc.