Post by nuvolari on Sept 6, 2012 12:38:13 GMT -5
In France there was a man called Alexandre Darracq, He started a business as a bicycle maker in the neighbourhoods of Paris. Then when the car industry started to develop, he became one of the first pioneers in the industry. The secret to his success was the know-how he had on plate assembly and chassis building. Soon his success became so big, that he started to make joint ventures with other industrials like Adam Opel. He opened factories in Italy, Spain and the UK. And you can see him today as the grandfather of Alfa Romeo, Opel(Vauxhall), Talbot, Sunbeam and a few more.
So I thought why not make a homage to him and build a Darracq. And I think one of his most known creations was the Darracq 200Hp. It was ones the fastest machine on earth's, faster than any train or aeroplane.
The car broke all records in Europe and the USA.
This monster, a mighty V8 block mounted on a chassis, still exist today, although I believe the engine is the only original feature on the car.
Anyway I found this footage on YouTube:
Part one:
Part two:
The model I've build is a fully scratch build made almost 90% brass.
The only things that where bought, are the lovely wheels that where made by Peter, although the wheels weren't meant for this type of car, the number of pokes aren't correct.
Peter came with a last minute rescue, after failure of a wheel that I made from old inserts that I still had in stock. The problem was that the metal the spokes where made of was just to weak for an open wheel.
Wherefore many thanks Peter for helping me out

The other thing that where bought is the electrical motor, the gear from SCX, the guide from Scalextrics and two resin figures from PJ Productions.
Here are a few Photos, you'll see some parts sitting strange, this is because some parts will only be fitted after the model is painted.
Also a few parts need to be finished, but you'll get the idea what it will become.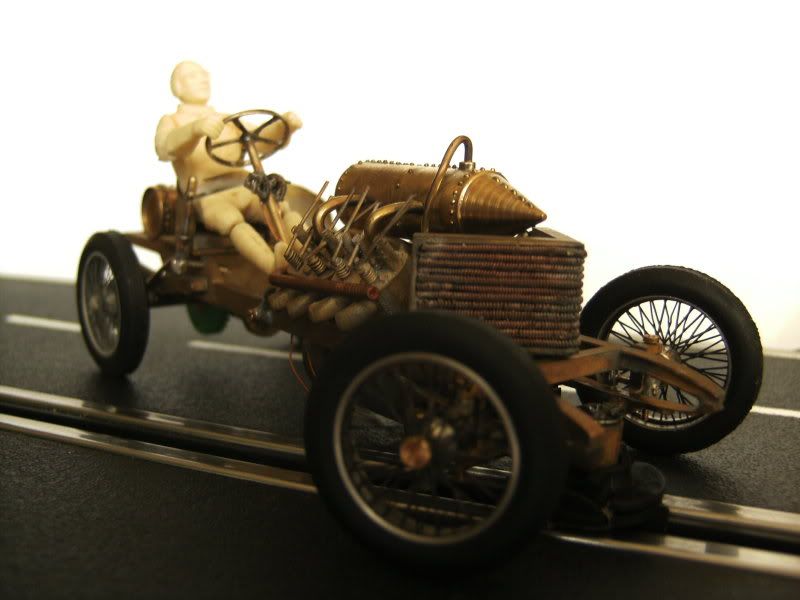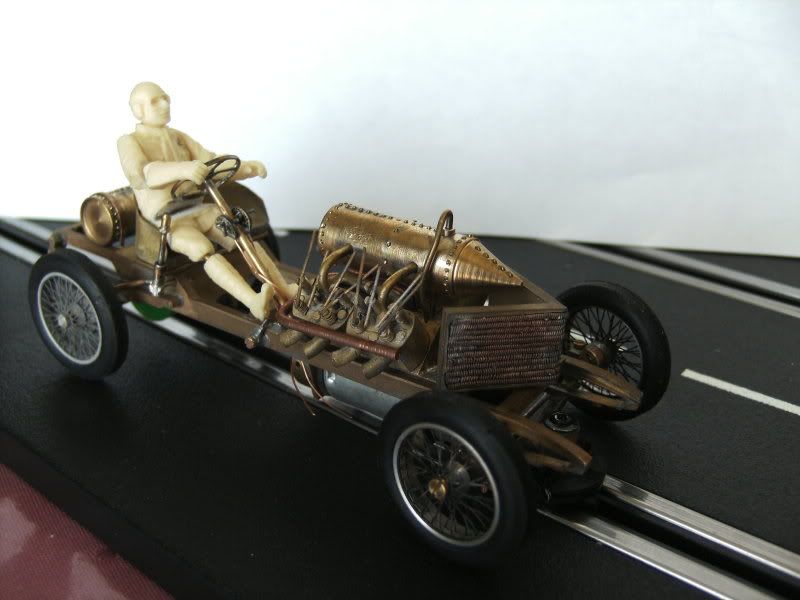 Cheers,
Danny