Post by Stubbo on Apr 17, 2016 22:51:12 GMT -5
The first race was run on the 9th of April.

Here are the qualifying results.




A few notes on the race.


Firstly I am waiting for one car to arrive. I will tech that car and then post up the completed sheet. There were several cars that had minor breaches. Most were in terms of tyre width. Some were over width purely as a result of not dressing the flashing on the inside tyre wall. Some were just over so to me that is not much of a problem plus who knows there could be slight variation in callipers or other measuring devices. Three cars were slightly out with their clearance. One was due to the body screw and the other two were just slightly under around the motor area. This did not bother me too much but other hosts will have to make their own decisions. Otherwise things were pretty good so well done guys. We ran three heats each of which was three minutes in duration. I ran heats 1 and 3 and Stu (Slo1quick) ran heat 2. We felt that generally felt that as a group the cars were an improvement on last year. The Grandkids car stopped dead in qualifying. A quick check showed that a wire had come off the motor and had to be reattached. Phil, you may want to look at it further when the cars come to you. Max Newcombe's car had a terrible miss in qualifying and the first heat. The miss was noticed when I first got the car but I gave it another run at Cheltenham and it seemed to go ok. It reappeared again in qualifying and the first heat so between heats we gave the motor a flush and the miss went missing and the car went much better in the two remaining heats. In general terms a number of the cars did not handle the little twisty bit just after the start finish line. Several cars would just deslot without warning. This happened right across the day. There were a few cars that had quite bad runs in heat 3. We couldn't figure out why but three cars in particular just kept popping out of the slot.

So here are the results.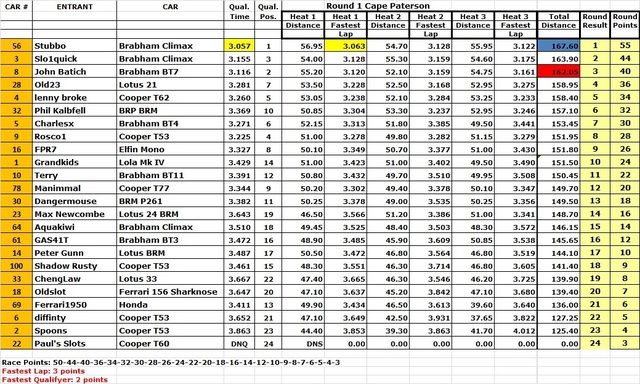 Here is a picture of the track as it was originally before the rally track was put in.


The Tasman is run on the middle lane. The start finish line is right under the light gantry. The track direction is clockwise. The most troubling places are the little "esses" just after the start. At the end of the main straight the corner is a little off camber and goes into a fast sweeper. The corner at the end of the straight can be a problem and also the little bend between the bridge and the finish line can sometimes be a problem.